Not too long ago Philadelphia sports fans were on the edge of their seats watching Sixers games with increasing enthusiasm as winter months came and went. It seems now, though, that much of the Philadelphia fan base is more focused on bar-b-que, beers, and summer evenings spent watching Phillies games. But what happened? How did this turn around come to be? Now that the Sixers are officially rebuilding, can they learn anything from what the Phillies have accomplished? In my opinion, they have shown that they already have.
The Phillies took clear steps in making a turn around possible. They fired Manager Larry Bowa, and went with a "player's coach" in Charlie Manuel. At the end of Charlie Manuel's first season in 2005, then General Manager Ed Wade was fired and Pat Gillick was hired as a replacement. Ed Wade hoped that Charlie's slight improvement over his first season would allow him to remain in his current position, but this did not prove to be the case. (Note: For those how don't know, Pat Gillick was the GM in Toronto when Joe Carter shattered my hopes and dreams).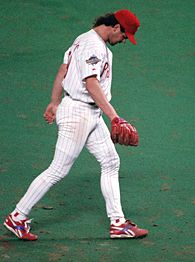 Pat Gillick's first goal as GM was to obtain financial flexibility. He traded away overpaid third basemen David Bell in July of 2006, and 3 days later traded the teams biggest name player in "
Booby
" Abreu. These changes are what essentially created the current Phillies roster. This current roster has been built by allowing young talent such as Chase Utley, Ryan Howard, Cole Hamels, and Shane Victorino get on the field and win games as a unit. The Phillies improvements have come from the changes listed above, and a blue-collar Philadelphia type attitude fostered by young talent and a team mentality.
The Sixers recently have taken seemingly similar actions in fostering a turn around of their own. At the end of the 2005 season Jim O'Brien was fired from the head coaching position, and Maurice Cheeks was hired. Mo is widely considered a "player's coach." On December 19, 2006 I cried. On this day Allen Iverson was traded from the Philadelphia 76er's. He was of course the biggest name player on the Sixers roster at the time. In addition, Chris Webber's contract was bought out in order to improve the team's financial situation down the road. These moves were made by former General Manager Billy King. Billy hoped that they would provide him with the ability to remain the team's General Manager, but he was fired on December 4, 2007. At the same time Ed Stefanski was hired as the new GM and his first goal was to increase the Sixers financial flexibility, which he did by trading Kyle Korver to create additional cap space. These changes, and the 2007 draft class, create what is now the current Sixers roster. Young players like Lou Williams, Jason Smith, Rodney Carney, and Thaddeus Young are attracting more and more playing time.
With their increasing contributions and the play of other relatively young players in Andre Iguodala, and Samuel Dalembert a team attitude has been created, with the same blue-collar Philadelphia type mentality on defense.
As you can see many similarities can be drawn from actions that brought about the Phillie's turn around, and those that seem to be helping the Sixers start winning games. These similarities include changes in key positions such as GM, coach, and the release of big name players. As these changes were made young talent has been able to incorporate a team attitude, and a workman's type mentality. The Phillies were able to use such changes to their advantage as they achieved the NL East title in the 2007 season. It seems as though the Sixers are using related tactics in order to hopefully achieve similar successes of their own.